about me
Software:
Torta
Karmack
Plata
FUmanchu! Rants:
AboutMe
Blogging
El origen del hombre americano
Propositos2006
Propositos2007
SWFing
Pictures:
Sicilia - thumbs
Visita Dimo 2007 - thumbs
Tokyo - thumbs
Barcelona - thumbs
Lisbon - thumbs
Gilberto Gil - thumbs
Visita Fidel - thumbs
Hiver - thumbs
Dogs - thumbs
Italy - thumbs
Eurockeennes - thumbs
Grenoble - thumbs
Chipie - thumbs
Place aux Herbes - thumbs
Eek Friends:

Alejo
Javier
Nelson Old Posts:
Archive Created with:
emacs
bash
libXSLT




Dimo's Art
Quebec Hispano
2006 - March
If nature has made any one thing less susceptible than all others of exclusive property, it is the action of the thinking power called an idea, which an individual may exclusively possess as long as he keeps it to himself; but the moment it is divulged, it forces itself into the possession of everyone, and the receiver cannot dispossess himself of it. Its peculiar character, too, is that no one possesses the less, because every other possesses the whole of it. He who receives an idea from me, receives instruction himself without lessening mine; as he who lights his taper at mine, receives light without darkening me. That ideas should freely spread from one to another over the globe, for the moral and mutual instruction of man, and improvement of his condition, seems to have been peculiarly and benevolently designed by nature, when she made them, like fire, expansible over all space, without lessening their density at any point, and like the air in which we breathe, move, and have our physical being, incapable of confinement or exclusive appropriation. Inventions then cannot, in nature, be a subject of property.
del.icio.us es la implementacion de una de esas ideas que son brillantes por su sencillez: bookmarks compartidos. La idea es que cada usuario registre enlaces de paginas que le interesen, junto con cualquier numero de palabras asociadas al enlace (por ejemplo 'chevere','colombia','sergio','lisp'). De esta manera, uno puede acceder a sus enlaces via internet desde cualquier parte, y hacer busquedas basado en las palabras claves (tambien llamados tags) Lo interesante es que cuando hay muchos usuarios, como es el caso, varios servicios nuevos son disponibles: buscar los enlaces asociados a tal o cual palabra en los enlaces de todo el mundo, o revisar que enlaces son populares actualmente. Como pueden ver, hay un enlace en la parte superior de mis posts, para aquellos usuarios de del.icio.us que quieran 'bookmarkear' cualquiera de ellos. :P
Este post confirma que Cavorito es sin ninguna duda el hombre web2.0 de la blogosfera colombiana. Realmente un programa muy chusco. Este post me pareció muy bueno. La autora deja ver su estado de animo respecto a los blogs, la política del país y otros temas. Me queda dificil decir porque me pareció un buen post, creo que tiene que ver con que da la impresión de estar escrito con honestidad. Bueno también el último post de colombianito (aka Sergio Méndez). Varias puyas sobre la situación del país y del mundo en general. Muy pertinentes. Javier señala también al último post de Plan Colombia and Beyond. Un análisis sobre el señalamiento de las FARC como el más grande cartel de la droga, recientemente. Libro recomendado del mes: A people's history of the United States. El intento del historiador Howard Zinn de contar la historia de los Estados Unidos desde el punto de vista de los olvidados por la historia tradicional: la gente ordinaria. Los indios, durante la colonizacion, los esclavos, durante la formacion de la nación estadunidense, los pobres, los sindicalistas, las mujeres.... El estilo narrativo es muy fluido. La historia es enriquecida con extractos de cartas de personas comunes de las diferentes épocas, noticias en los diarios, etc.
Esta mañana me desperté con un poco de popularidad gracias a la mencion de Torta por parte de Bill Clementson, el bloguero de moda en la comunidad lispera. Ver.
More fun with lisp and flash.
"I was attracted to anarchism as a young teenager, as soon as I began to think about the world beyond narrow range, and haven't seen much reason to revise those early attitudes since. I think it only makes sense to seek out and identify structures of authority, hierarchy, and domination in every aspect of life, and to challenge them; unless a justification for them can be given, they are illegitimate, and should be dismantled, to increase the scope of human freedom. That includes political power, ownership and management, relations among men and women, parents and children, our control over the fate of future generations (the basic moral imperative behind the environmental movement, in my view), and much else. Naturally this means a challenge to the huge institutions of coercion and control: the state, the unnacountable private tyrannies that control most of the domestic and international economy, and so on. But not only these."


Noam Chomsky

Las negrillas son mías.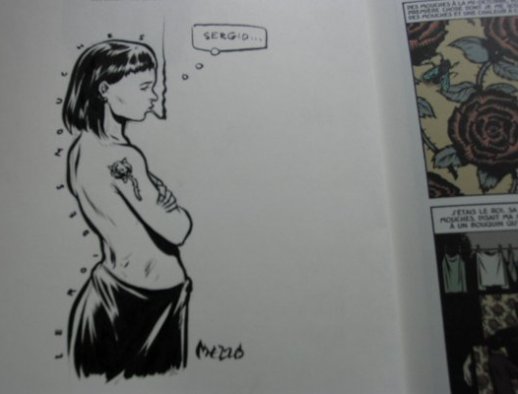 Esta mañana fuí a hacer firmar mi copia de Le roi des mouches por Mezzo, su dibujante. En la foto, la prueba :P. Sin duda uno de mis comics favoritos, por su historia y su dibujo perturbador.
Cuando uno escribe en Mozilla o Firefox una URL con cierto tipo de errores, estos browsers hacen una busqueda en google sobre la palabra http y envían al usuario a la primera dirección encontrada. Todo esto está explicado en mayor detalle aquí. Hay una campaña para "solucionar" esto de la siguiente manera: Que mucha gente ponga links en sus páginas a la verdadera página de http. Por ejemplo de la siguiente manera: HTTP. De esta manera, dentro de algún tiempo google debería comenzar a tener esa página en el primer lugar de busquedas sobre http. Si, yo se que hay una manera evidente de solucionar el problema real, pero esta es más simpática :).
Como parte de la serie "Mis amigos fueron a ... y lo único que me trajeron fue esto" [1], he aquí un nuevo homenaje a Fidel, versión Barcelona:
La revista cambio publicó acá una lista de los candidatos al senado "que cree no pueden faltar". Se encuentra uno con la siguiente brutalidad:

Juan Manuel Galán Pachón: El sello de su padre, Luis Carlos Galán, es suficiente garantía de su honestidad y trabajo.


Quien lo creyera, el ser hijo de alguién es garantía suficiente de honestidad y trabajo! No, en serio, si no encontraron ninguna otra razon para defender el voto por Galán, mejor hubieran hecho en no decir nada.