about me
Software:
Torta
Karmack
Plata
FUmanchu! Rants:
AboutMe
Blogging
El origen del hombre americano
Propositos2006
Propositos2007
SWFing
Pictures:
Sicilia - thumbs
Visita Dimo 2007 - thumbs
Tokyo - thumbs
Barcelona - thumbs
Lisbon - thumbs
Gilberto Gil - thumbs
Visita Fidel - thumbs
Hiver - thumbs
Dogs - thumbs
Italy - thumbs
Eurockeennes - thumbs
Grenoble - thumbs
Chipie - thumbs
Place aux Herbes - thumbs
Eek Friends:

Alejo
Javier
Nelson Old Posts:
Archive Created with:
emacs
bash
libXSLT




Dimo's Art
Quebec Hispano
2004 - August
In other fields, it may be desirable for specifications to be as precise as possible. If you're asking for a piece of metal to be cut to a certain shape, it's probably best to say exactly what you want. But this rule does not extend to software, because programs and specifications are made out of the same thing: text. You can't write specifications that say exactly what you want. If the specifications were that precise, then they would be the program. -- Paul Graham, ANSI Common Lisp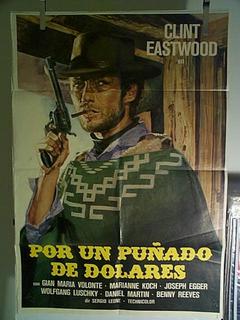 Mi tipo de peliculas favorito es aquel donde el eje central de la historia es algun tipo de viaje o de camino. Por ejemplo todos los spaghetti westerns de Sergio Leone, Mad Max o Ninja Scroll. Uno de mis libros favoritos es "On the road". Parafraseando a Nimiedad, a mi que me pasen una copia de "Por un puñado de dolares" y no me jodan! P.D. : Recordemos el post de drayru sobre Fito Paez.

Crazyrobot y Bluelephant rezando por las almas perdidas de TOL en la Basilica de San Pedro.


Llegué ayer de una semana de vacaciones en Italia. No había visto a Javier desde hace mas de tres años. Me encontré con él y Mónica en Turín, y en seguida salimos hacía una ciudad llamada Massa, a media hora de Pisa, donde tenemos familia. Desde ahí visitamos Florencia y Pisa. Tambien nos tomamos un dia para ir a la playa. En Florencia hicimos las filas, vimos los museos, David de Miguelangel, etc. Intentamos entrar a la casa de Dante, pero estaba en restauración. El miércoles partimos hacia Roma donde pasamos el resto de la semana. Muchisimas cosas por ver. Mucho por caminar. Coliseo.. Vaticano.. todo es impresionante. Tendré que volver luego a Roma con Andrea (para el efecto lancé la moneda a la fuente de Trevi). Es imperdonable no visitar esta ciudad estando en Europa. Mis únicas dos quejas del viaje a Italia: Los museos son muy caros y los centros de la ciudad no son muy amigables al peaton (los andenes son angostos, mucho carro, etc). Todas las fotos estan aca Libros en los trenes: Le Petit Nicolas (influencia de la Kite) y Le pere Goriot de Balzac.